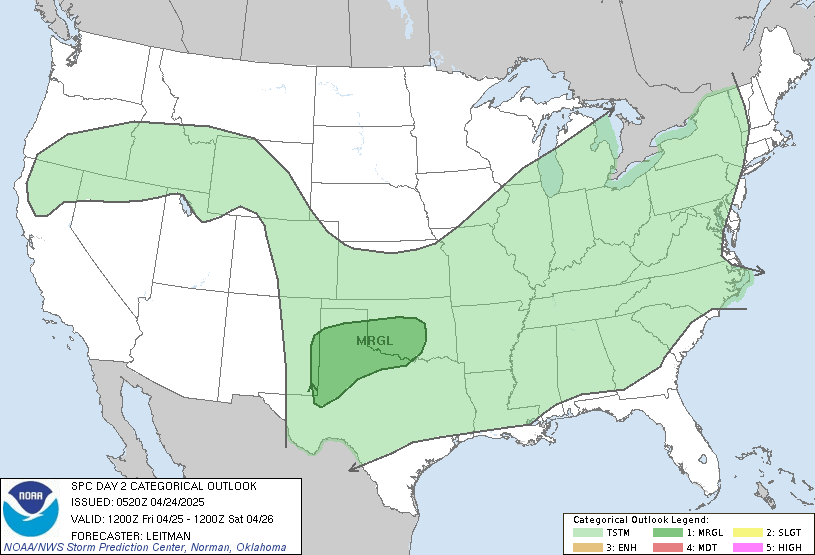 METD WEATHER,
Akshay Deoras,
Extreme Weather Forecaster,
Concerning- MODERATE WEATHER RISK
THERE IS A MDT RISK OF SVR TSTMS ACROSS NCNTRL/NE OK...SCNTRL/SE
KS AND EXTREME SW MO...
THERE IS A SLGT RISK OF SVR TSTMS FROM THE CNTRL/SRN PLAINS TO    THE MID-MS VLY...
The 00z+48hr NAM range are indicating a classic trough digging in the southern plains. Setup at the 300mb indicates 90kt westerly flow with embeded SFC LOW PRESSURE OF 1000mb coupled by southerly winds of impressive 40kt at OK-Ks border and 50kt at OK-TX border at the lower levels. Much moisture for convection will be transported in the interior resulting 60F+ dewpoint.During the morning hours, A lot of CIN or Convective inhibition will be present over the tornado alley. a strong CIN over -200 will inhibit convection as the NAM indicates.
The morning setup indicates thunderstorm formation in Southern Oklahoma to Central TEXAS. The Lifted index values are -5. yet strong CAP at hold will inhibit convection if it doesn't bust away on Monday plots.
Much later, in afternoon to evening convection will start by firing some intense thunderstorm as CAP reduces and becomes borderline in the vicinity of warm front. A strong CAPE over 3000J/Kg will destabilise the environment and lead to intense updrafts and possibly severe hails when thunderstorms fire. The Lifted condensation level
will be at 850mb and less leading to low cloud bases. Upper level CAPE will lead to strong convection and rotations in Oklahoma to Kansas as the low level shears are over 200 m2 s2 round the event with stronger SHEARS is Kansas.The moderate risk deals with the 60kt LLJ in MO-KS border
The EHI values are over 3.0 in the 0-1km range and solid of 6.0 in 0-3km range from Central Tx to central KS. The supercells will be a LP to HP in diff. areas
Tornado probability will be high in Oklahoma and Kansas border and Western Oklahoma for the borderline CAP.
If CAP BUSTS AWAY, This event will be HISTORIC for Severe Hails and weather in Oklahoma and Kansas. For now, I will be with Kansas