METD WEATHER
AKSHAY DEORAS
SEVERE WEATHER FORECASTER
*** WIDESPREAD DUST CONTINUES IN INDIA*****
*** REPORTS FROM MULTIPLE AREAS STILL INDICATING THE PRESENCE OF WIDESPREAD DUST***
*** NEW DUST PLUMES VISIBLE OVER NORTH-AFRICA***
THE SAND BLOWING TOWARDS INDIA AS ON 20TH MARCH 2012
COURTESY-NASA MODIS
THE HISTORICAL DUST STORM/SUPERSTORM HAS IMPACTED THE CITIES OF INDIA ON A VERY LARGE SCALE. THE WIDESPREAD DUST HAS CONTINUED TO REMAIN IN MANY AREAS LIKE GUJARAT,RAJASTHAN,PUNJAB,BHOPAL,OTHER PARTS OF MADHYA PRADESH,MUMBAI ALSO.
Above- Mr.Kanishka Raj Rathore from Bhopal,Madhya Pradesh sends the photo to METD WEATHER. The photo is of Bhopal City in Central India and taken at 1240PM IST.
Realtime Conditions and Forecasts-
Right now, conditions are further improving across the Gulf countries. Today's reports show lesser reports of Blowing Sand or Widespread Dust across the areas such as UAE,Saudi Arabia,Oman and vicinity. Visibility is further improving as was estimated for the regions. However minor suspended dust particles are still going to be present in the atmosphere atleast on 22nd March also where majority of clearing is expected
Conditions are highly improving across Sindh and other parts of Pakistan. Some areas today got very good visibility and lesser suspended dust particles!
In India, Widespread Dust also is being reported. Reports from Gujarat like Rajkot,Ahmedabad still indicate presence of Widespread Dust or Blowing Sand with very low moisture and RH over 5% at minimum. The visibility has improved a bit in Rajkot since afternoon but people are informing that still dust is occupying on their cars etc..
Reports from Central India particularly Bhopal are impressive for Widespread Dust and VERY LOW VISIBILITY 1km in the area
The moisture has significantly dropped today due to the persisting dust.
In Amritsar, BLOWING SAND continued today also in the afternoon period..
In Mumbai,Our fellow friend Rajeshbhai Kapadia of Vagaries of Weather (rajesh26.blogspot.com) mentioned visibility dropping to 900m at 0230PM
Forecasts-
To begin with, There appears another Dust Plume over North-Eastern Africa i.e Egypt and vicinity.
The above imagery of Visible Spectrum clearly shows New Dust Plume over North-Eastern Africa. The area is around Egypt.After cross checking with the weather stations of Egypt, its clear that there has been some Dust Activity around Asyut,Egypt this afternoon. Blowing Sand was reported in fact at that location. There has been NO REPORT of any Dust activity in that area
My estimates do suggests that the suspected region is DUST. The Infrared Spectrum shows no reflection from the region which normally clouds do. This area is being watched by METD WEATHER and Vagaries of Weather closely.
Any updates shall follow soon!
On comparison of the two images, its a clear thing that other clouds are being seen as it is in the Infrared spectrum except that region-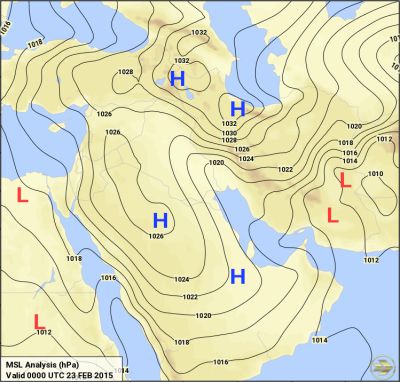 The above Surface Weather analysis from Kuwait Weather Dept. shows the moving Low Pressure "L" over Southern Saudi Arabia with the cold front trailing behind.
If this holds true, we can expect the dust plume to slowly enter or move towards Iraq,Saudi Arabia areas on 22nd March 2012. The persisting Low pressure and Jet streams shall help in doing so
If this comes true, Weather shall again turn Dusy in Iraq,Saudi Arabia,UAE,Qatar etc.. and likely in Oman on 22nd March 2012 which will entirely depend whether my estimates are true or not. However an eye must be kept on the event happening no matter if it doesn't happen
Sindh-
Conditions shall improve further in next 12-24hrs with lesser suspended air particles in the region.
India-
Conditions are now expected to improve slowly in Gujarat,Rajasthan,Central India,Northern India. Though Nagpur didn't receive any dust which was being expected but still the northerly or westerly winds can advance some dust tomorrow so the possibility can't be RULED OUT
Mumbai- Things will turn to normal from tomorrow as the dust shall not cause any effect tomorrow!
DUST COVERED MUMBAI!!!!!!!!!!!
KELLI CLOGSTON THEXTON from Mumbai sends this wonderful photo taken from the expressway in Mumbai at 0430PM today.
Kelli's location was here on the Western Expressway
http://maps.google.co.in/?ll=19.042992%2C72.831974&spn=0.011663%2C0.01929&hnear=Mumbai%2C+Maharashtra&t=h&z=16
i.e on the express way. Kelli writes-
This is taken from the Western Expressway. You should normally see the Worli Sealink and high rises across the bay!.
It was taken at 4:30 p.m. on March 21. The "ridge" you see just above the sea wall is about 1 football field away. It is probably .25 miles across the bay and it is shocking that you can't even see the high rises or the sea link!
Most of the people will not notice anything in the photo due to the extra-ordinary Dust present. So I processed the photo in iPhoto and after adjusting the exposure,contrast one can now see what Kelli meant-
One can clearly see the rocks to the left and right side of the image. Those areas perhaps are of Mahim and the Mahim Fort in vicinity!
Courtesy- IBN LIVE
STAY TUNED FOR UPDATES!!!!